---
Victoria Requiem Mass 1605
Sat, 25 Nov 2023

Schutz: Selig sind die Toten
Bach: Jesu, meine Freude
Victoria: 1605 Requiem Mass
Daniel Mahoney - conductor
In this concert, Reading Bach Choir presented a journey through masterpieces of the Renaissance and Baroque eras.

Written during Bach's first year in Leipzig, the German master's longest motet is one of his most beloved, entwining a Lutheran hymn tune chorale with biblical verses in a complex and beautiful structure.

Over a century earlier, the master of Spanish Renaissance, Victoria, did the same with his Office of the Dead. Written for the funeral of Dowager Empress Maria, it is considered one of the greatest works of choral music from that period, imbued with a profound spirituality and emotional depth.
---
The Arc in the Sky
Sat, 8 Jul 2023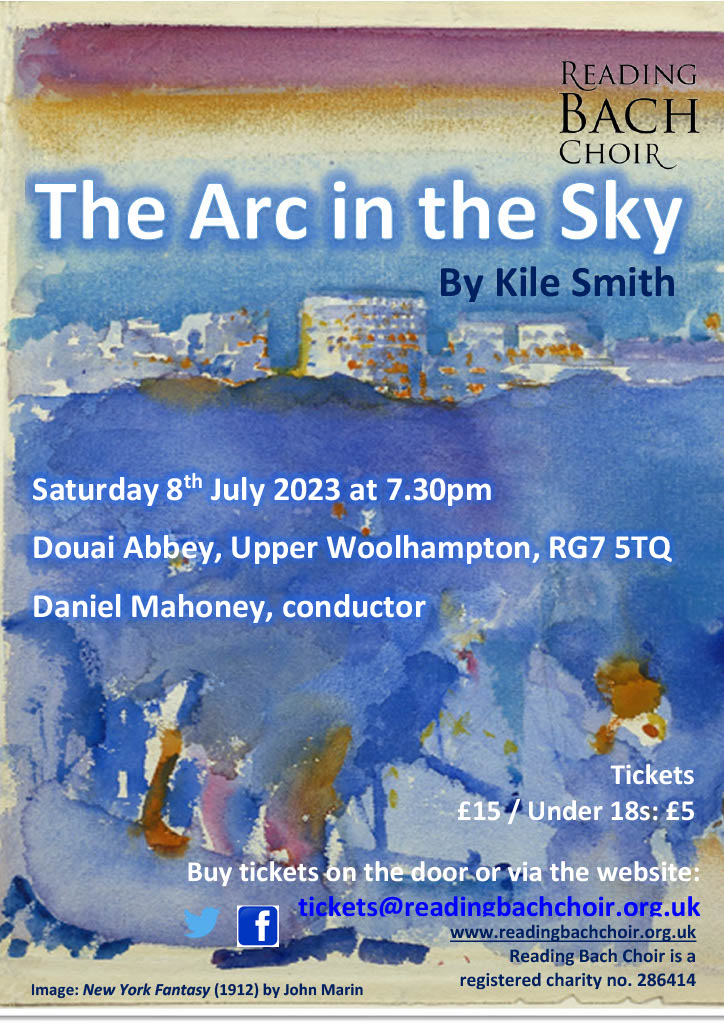 In this concert, the Reading Bach Choir gave the UK premiere of The Arc in the Sky by American composer, Kile Smith.

Premiered five years ago by Grammy-winning choir The Crossing from Philadelphia, Smith's impressive concert-length work for a cappella choir is a pilgrimage of sorts, perfectly suited for the soaring, spacious splendour of Douai Abbey where we sang.

This bold and beautiful musical statement takes its inspiration from the equally dynamic verse of lesser-known American poet, Robert Lax. The Columbia-educated writer is best known for his association with the monastic Thomas Merton and friendships with classmates like Jack Kerouac.

The music contains both the space and wonder of deep spiritual thinking while relishing in the detailed intricacies of Lax's minimalist poetry. The music is steeped in the jazz vernacular that both Lax, Merton, and Kerouac soaked up in their New York City days while slouching from club to club in Greenwich Village.

Smith infuses all of these elements into a work that has garnered increasing international attention and is sure to become a favourite piece among choral music lovers. The concert was a perfect match of space and time.
---
By Royal Command
Sat, 29 Apr 2023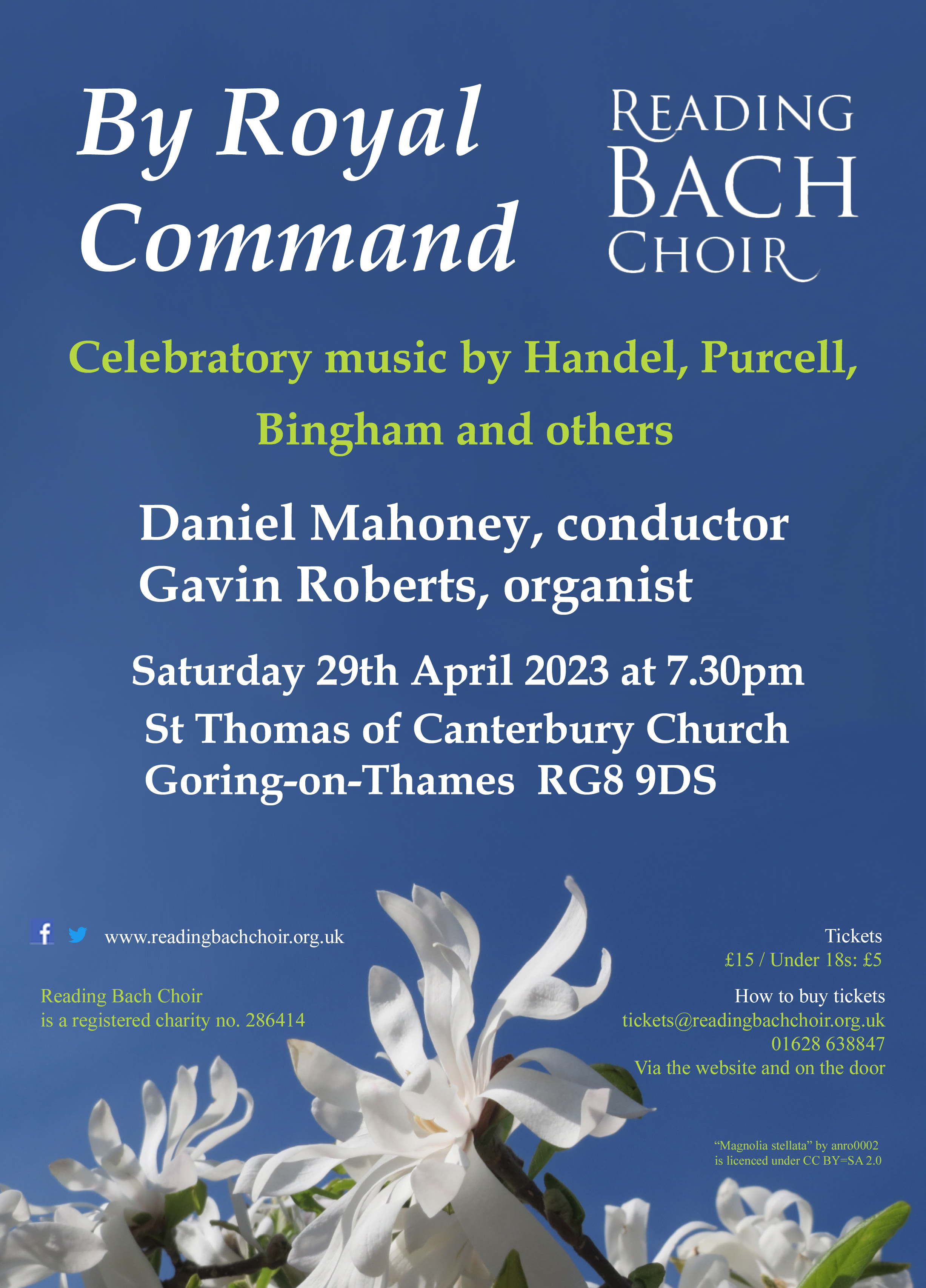 By Royal Command celebrated the pomp and circumstance of the coronation of Charles III while also exploring a variety of music written for other milestone moments: births, deaths, weddings and much more.

Music written for magisterial occasions abounded. Dating from the coronation of George V, Parry's beloved I was glad marks tradition, while Handel's timeless setting of Zadok the Priest starts a set of coronation anthems stretching from Charles II to George II.

Pieces by Henry Purcell, Britain's greatest home-grown composer of that time, included My Heart is Inditing, as well as a selection of music from The Fairy Queen for a wedding anniversary of William III and Queen Mary. The modern anthem, Ghostly Grace, by Judith Bingham, written for the reburial of Richard III in Leicester, reaches back over centuries to the Plantagenets.

At the same time, we paid homage to composers who wrote a variety of ceremonial music for non-royal occasions. Bach's secular cantata Zerreisser, Zersprenget, Zertrummert die Gruft, BWV 205, was commissioned by students for the name day of a popular professor at the University of Leipzig in 1725. Over 160 years later, Brahms premiered his Fest- und Gedenkspruche in celebration of the unification of Germany. We marked the 190th anniversary of Brahms's birth on 7th May 1833 by bringing this festive double chorus to life.
---
Concert - Seven Last Words
Sat, 11 Feb 2023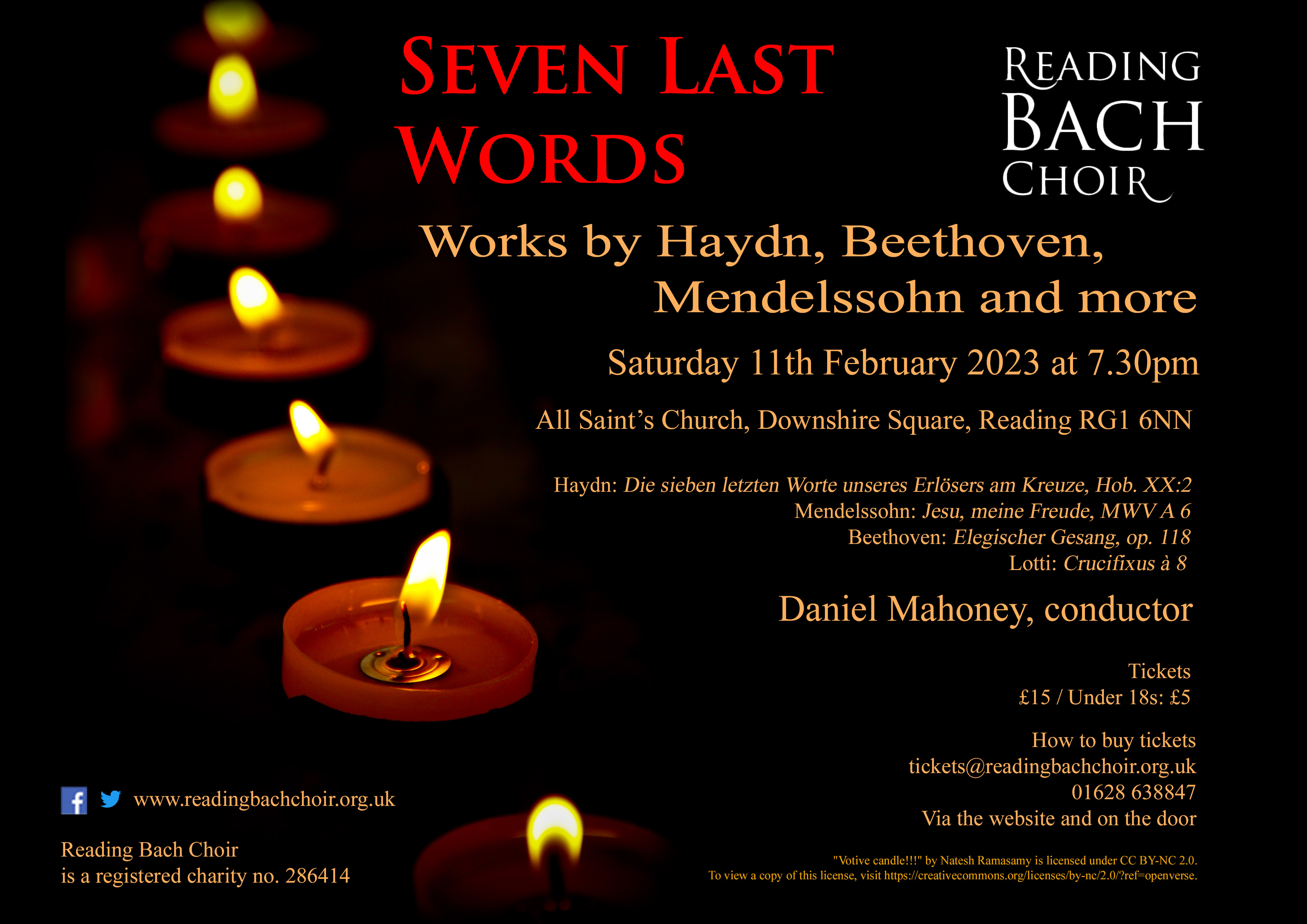 This concert was an opportunity to hear one of Haydn's oratorios, Seven Last Words, reimagined in a novel way as a moving piece for choir and strings. Also on the programme was Beethoven's Elegaic Song, Lotti's 8 part Crucifixus and Mendelssohn's Jesu, meine Freude. The choir was delighted to be accompanied by a string quartet who also played Arvo Part's Psalom.
Concert Review
In the magnificent surroundings of All Saints Church in Reading, the Reading Bach Choir presented a fascinating concert of little known works by well known composers. For some unknown reason these works seem to have lost their popularity amongst the choral community but well deserved their presentation again by this popular and highly talented choir.
The first half consisted or four short works by Lotti, Beethoven, Pärt and Mendelssohn. The first of these, the Crucifixus by Lotti, sung a capella, consists of simple, beautifully melodic lines that move through the choir and develop through the work, floating across the audience like waves.
By contrast Beethoven's Elegischer Gesang is a much more robust and fuller sound that brings all the parts of the choir together and includes surprising harmonies, typical of many of his works.
Again, a dramatic contrast with Psalom, played by the very talented string quartet that accompanied most of the concert. Pärt's works are often sparse with quiet or even silent passages that say more in the silence than in some of the notes. This was no exception. The short phrases passing between different combinations of the four instruments created an ethereal atmosphere.
The last piece in the first half, Mendelssohn's, Jesu meine Freude, is a joyful and lively piece that, as its title implies, should bring a smile to our face. It did precisely that to members of the choir.
The second half consisted entirely of Haydn's Seven Last Words. This was originally commissioned for the main church in Cadiz as an instrumental piece in 1785 but was further developed in stages into a fine oratorio piece. It consists of the seven short sentences spoken by Jesus from the cross. Each sentence is sung by the Choir and is followed by a short section of prayer set to music for the Choir to support the emotion of the sentence.
The programme notes gave us the sentences and it became clear that the following musical section fully supported the sentences. The solo pieces gave many of the fine voices in the Choir the opportunity to demonstrate their talent. This was Reading Bach Choir at its best.
Peter Boardley
---
Clarinet and Cake
Sat, 28 Jan 2023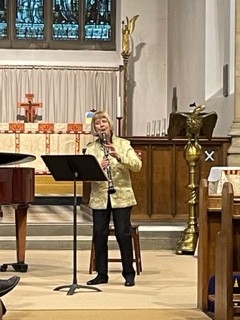 This recital by Royal College of Music clarinet professor and Reading Bach Choir alto
Janet Hilton,
a
ccompanied

by

Assistant Music Director

Nick Shaw,

was a celebration concert in support of the choir. Our audience enjoyed a varied and entertaining programme followed by a slice of delicious homemade cake and a cup of tea. What more could you want.






The programme:



Studies in English Folksong Ralph Vaughan Williams (1872–1958)
Intermezzo and Scherzo from Four Characteristic Pieces
William Yates Hurlstone (1876-1906)
Caoine, Irish Lament from Sonata Op129 Charles Villiers Stanford (1852-1924)
Two Memorials Mark Anthony Turnage (1960- )
Sonatina for clarinet and piano Joseph Horovitz (1926-2021)



---
I Believe : Life after Death
Sun, 13 Nov 2022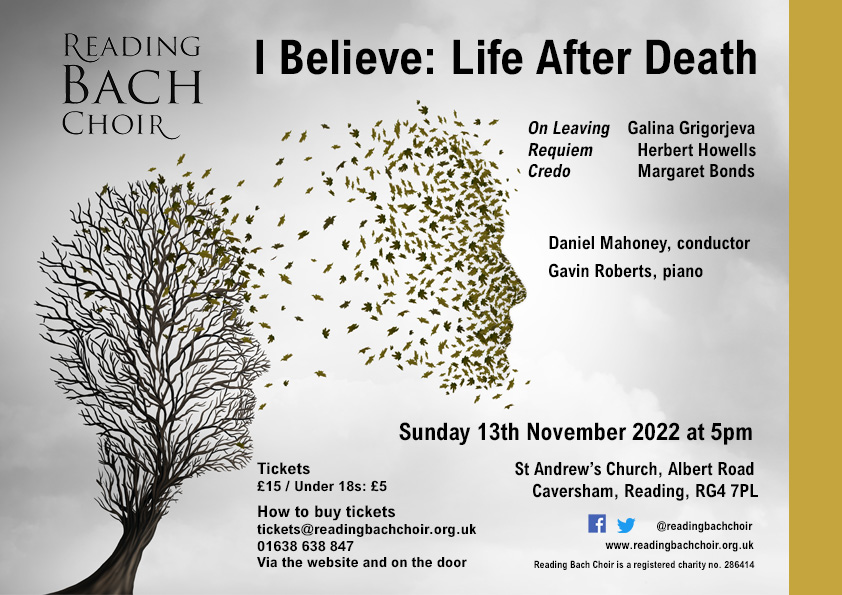 Reading Bach Choir was delighted to return to St Andrew's Church in Caversham for this concert with a programme entitled "I Believe: Life after death".
The concert explored three stages of this, beginning with "the separation of the soul from the body" in "
On Leaving
", a piece by contemporary Ukrainian composer Galina Grigorjeva.
We then moved to "
Requiem
" by Herbert Howells, a comfort to those who remain and mourn.
Lastly, we presented Margaret Bonds' "
Credo
", an affirmation of belief that follows a loss. This is a setting of words by W.E.B. Du Bois by a black American woman and makes a profound statement of harmony and professed belief.
This was a moving and uplifting concert, fitting for Remembrance Sunday
Concert review in the Newbury Weekly News:
Attending an RBC concert, I always come away with just a little bit extra; whether it's an introduction to a lesser known composer or a familiar text in a very different musical context.
We got both of these at St Andrew's on Remembrance Sunday when Daniel Mahoney led the choir through three pieces on the theme of "I Believe"; wonderful pieces, but which could not have contrasted more.
"On Leaving" Galina Grigorjeva's hauntingly beautiful setting of the text for the Orthodox funeral liturgy felt very much in the Russian style of polyphonic singing, although the addition of flute and triangle firmly placed it in the 21st Century. Special mention to the basses who played a heroic role, whilst the other six parts created a shimmering texture which gave a quite mesmeric effect. Tenor Henry Ross gave an achingly beautiful rendering of the second movement "like drops of rain, my evil days and few, dried up by summers heat, already gently vanish; oh, lady save me "
We moved to more familiar territory with the Herbert Howells Requiem. As with many choirs, RBC is reshaping the choir after the lockdown pause and I felt there is a very satisfying balance across the parts. It was good to see the trio in the second movement taken by choir members. Mahoney's tempo was restrained and measured . The choir was very comfortable with the distinctive Howells musical complexities and the final movement "I heard a voice from Heaven" was deeply moving.
The final work, "Credo" by Margaret Bonds, gave the choir the chance to move to another mood entirely. Bonds grew up in the racially segregated black south side of Chicago. The piece, composed in the 1960's, took its text from W.E.B Du Bois' prose poem of 1904, urging racial harmony and equality as something ordained from Heaven.
The choir really sung with conviction and relish; either in ensemble alone, or supporting the choir's guests. Lynda Nwabudike's "Especially do I believe in the Negro Race" was glorious (and received rapturous applause from the audience!) and George Robarts "I believe in Liberty" was commanding.
Bonds was an accomplished pianist and the piece has a wonderful piano score, beautifully interpreted by Gavin Roberts.
Thank you, Daniel and RBC for an imaginative programme of hope on that day of Remembrance.
---
what lies beyond sense and knowledge
Sat, 11 Jun 2022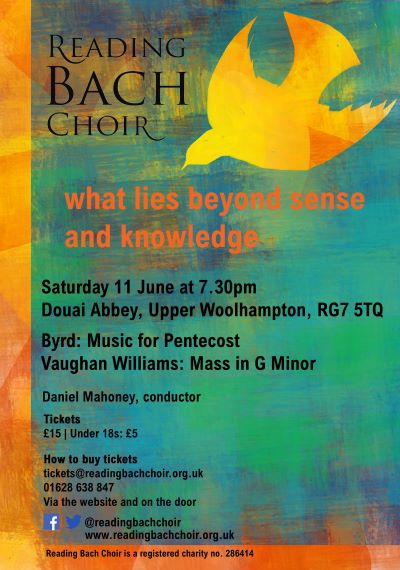 Two of the most significant composers in the history of English music, separated by centuries, coexist seamlessly with one another in this special concert. The deeply faithful William Byrd lived in a delicate balance as a practicing Roman Catholic and member of the Chapel Royal in Elizabethan society. In 1607 he published his second volume of Gradualia, a collection of music for the Catholic liturgical year. This music was meant to be sung in private devotion at a time when doing so could result in fines, imprisonment or even death. Thus this concert marks a rare occasion to hear Byrd's music for the feast of Pentecost performed live.

By contrast, Ralph Vaughan Williams famously proclaimed his atheistic leanings as a youth, ultimately drawing closer to agnosticism as he aged. His experience in the First World War prompted a shift in his spiritual life and inspired some of his most significant works for voice including the Mass in G Minor. 2022 marks the 150th anniversary of Vaughan William's birth as well as the centenary of the Mass's premiere. This key work is considered the first Mass written in a 'distinctly English voice' since Byrd.

Despite the differences in faith between the two men, Vaughan Williams famously stated: There is no reason why an atheist could not write a good mass.
---
The Heart Starts Singing
Sat, 19 Mar 2022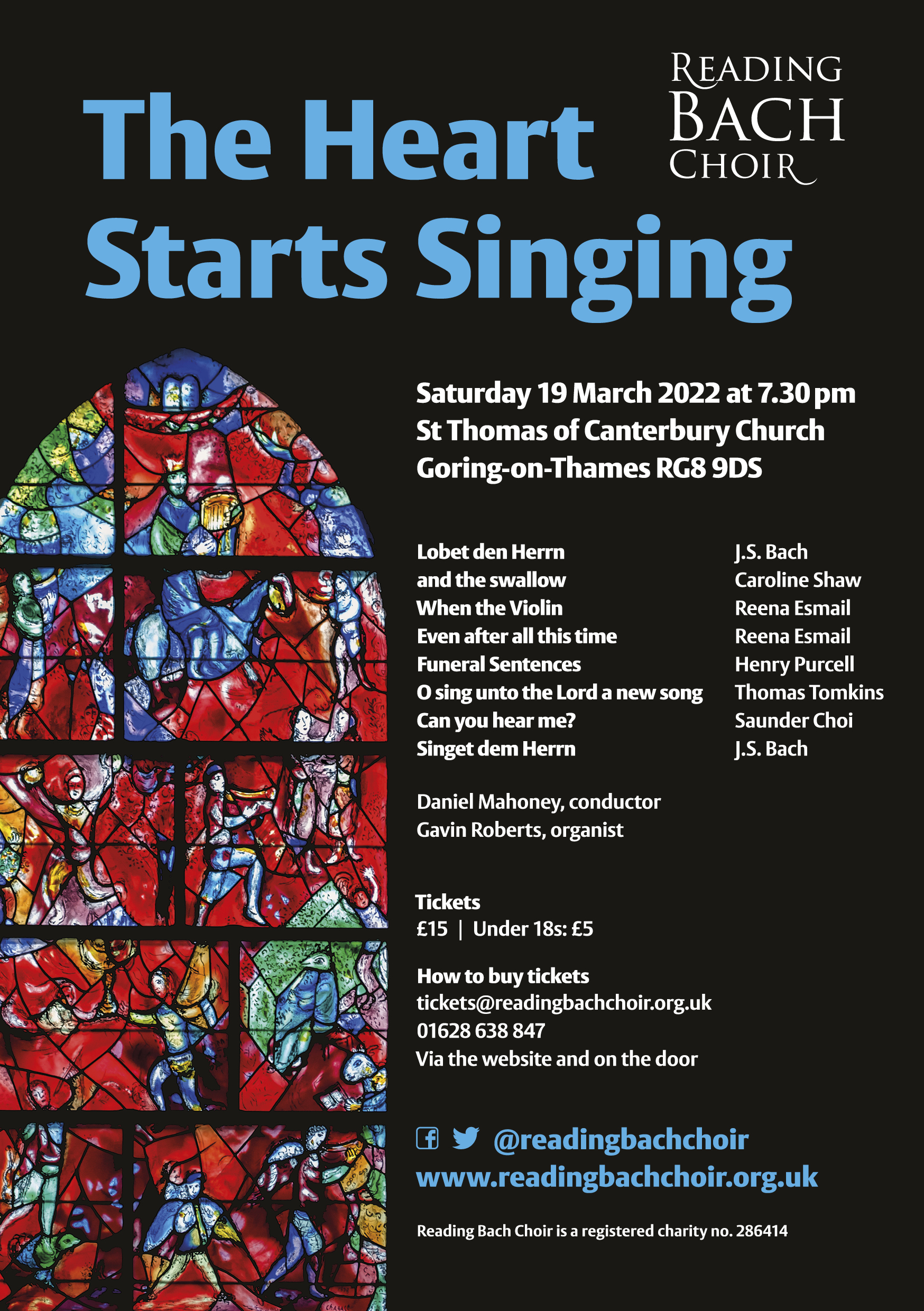 Usher in the changing seasons with the Reading Bach Choir's first concert under new musical director Daniel Mahoney. Drawing upon the choir's rich tradition of juxtaposing old and new, this concert brings together works from the Welsh composer Thomas Tomkins to a UK premiere.

One of two Bach motets on the programme, the jubilant Lobet den Herrn revels in the celebration of the coming spring and the Baroque master's birthday, as well as a new chapter in the choir's story.

The expansive and the swallow highlights why Caroline Shaw was the youngest ever recipient of the esteemed Pulitzer prize for music. Two pieces by acclaimed Indian-American composer Reena Esmail savour in the sensual and spiritual poetry of Hafiz.

Henry Purcell's beloved Funeral Sentences, central to the music for the funeral of Queen Mary, serve as a timely tribute to those who have left us during these difficult past two years.

Los Angeles based Filipino composer Saunder Choi's Can You Hear Me? receives its UK premiere. This companion to the final piece on the programme asks us to recognise and acknowledge others' points of view while Bach's Singet dem Herrn ein neues Lied rouses the heart to sing and dance in celebration and praise.
---
The Kestrel Road and other stories
Tue, 25 Jan 2022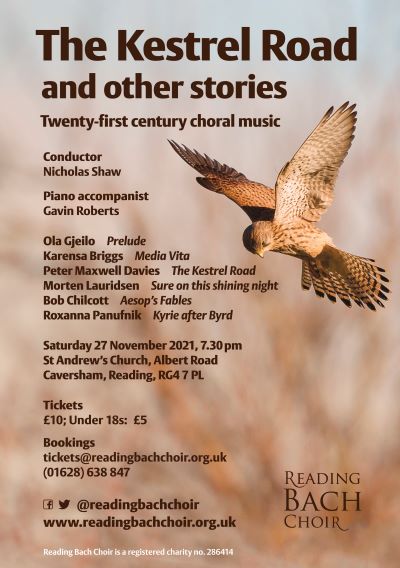 This concert of haunting and compelling music was heralded by a choral fanfare, Prelude, by the Norwegian, Ola Gjeilo, followed by two song cycles for choir and piano, including The Kestrel Road by Peter Maxwell Davies, a piece suggestive of the 'elusive land and seascapes' of the Orkney Islands and influenced by folklore and music. Bob Chilcott's setting of five Aesop Fables uses the composer's gift for melody and delivers some powerful settings of the famous texts.

Two unaccompanied works by female composers: Media Vita by Kerensa Briggs and Kyrie after Byrd by Roxanna Panufnik were performed, as well a setting of James Agee's poem, Sure on this Shining Night by Morten Lauridsen, already one of the classic choral works of this century.

COVID complications meant this concert was rescheduled from the original date of Saturday November 27th 2021 to Tuesday 25th January 2022.
---
Musica Sacra Italiana
Sat, 8 Feb 2020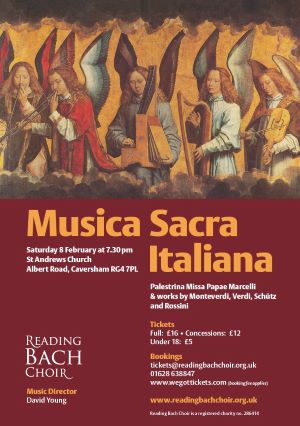 From renaissance polyphony to the romantics, our concert brings you some of the most beautiful and inspiring church music from Italy.

Together with wonderful pieces by Monteverdi and Palestrina, we have works by the lesser known Lodovico Viadana and religious works b Rossini and Verdi, bot beetter known for their operas. Verdi's Ave Maria is an amazing and unexpected piece, written in response to a challenge. If Schütz comes as a surprise in a concert of Italian music, he studied under Gabriele and Monteverdi in Venice and helped to introduce the Italian baroque style to Germany.
---
Brahms - Ein Deutsches Requiem
Sat, 2 Nov 2019
Brahm's wonderful German Requiem is an incredibly human, spiritually comforting work written not as a mass for the dead but as consolation for the living who mourn them. Dark and sombre passages contrast with lyrical and tender moments and each of the seven movements ends in a spirit of optimism. It is a joy to sing and to listen to.

Also in the programme were five beautiful motets by Heinrich Schütz, some of them setting the same texts that Brahms selected from Luther's translation of the Bible.

Music Director: David Young
Soprano: Hilary Cronin
Baritone: Dominic Sedgwick
Orchestra: London Oratorio Players
---
Solstice - Summer music from Britain and the Baltics
Sat, 22 Jun 2019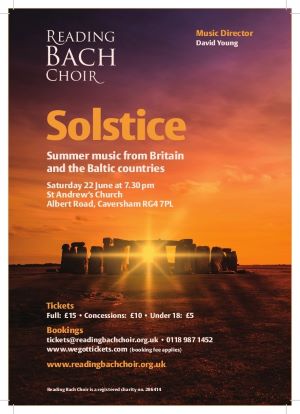 A choral celebration of the SUMMER SOLSTICE! including Tormis' lively and unusual St John's Day Songs and works by Britten, Dove, Harvey, Einfelde, Vasks, Ešenvalds and Rautavaara.
---
Svyati - Music for choir and cello
Sat, 6 Apr 2019
Svyati - a concert of powerful and moving contemporary works for cello and choir named for John Tavener's piece which concluded the programme. Two pieces from Knut Nystedt and one by Pablo Casals were combined with one of Bach's most expressive motets, Jesu meine Freude, and three renaissance gems from William Byrd, Thomas Tallis and Carlo Gesualdo.

Music Director: David Young
Cello: Stephanie Tress
---
Choral Music from Poland
Sat, 2 Feb 2019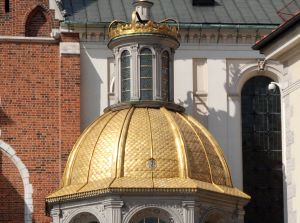 This concert of Polish choral music brings together sacred music ranging from the early 18th century Gorczacki, to living composers Lukaszewski and Roxanna Panufnik. Alongside these are a wonderful Magnificat by Arvo Pärt (from nearby Estonia) and the fascinating folk song settings from Kurpie. This forested, formerly isolated, province of north-eastern Poland has its own highly individual folk traditions and music. Szymanowski's Six Songs from Kurpie (1929) and Górecki's Five Kurpian songs (1999) were both inspired by a famous 1928 collection of over 1000 songs.

Grzegorz Gorczycki: Missa Paschalis
Pawel Lukazewski: Nunc dimitis
Pawel Lukazewski :Ave Maria
Karol Szymanowski: Six songs from Kurpie
Henryk Gorecki: Five Kurpian songs
Roxanna Panufnik: Kyrie after Byrd
Arvo Pärt: Magnificat
---
We Who Are Left
Sat, 3 Nov 2018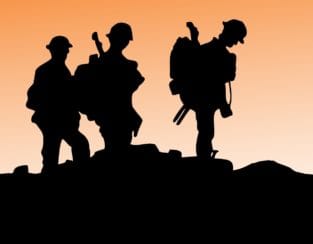 This concert commemorated the 1918 armistice with works by five English composers reflecting their own musical backgrounds and wartime experiences.

The wellspring of Gerald Finzi's Requiem da Camera was the death in action in 1918 of his first composition teacher, Ernest Farrar, whom he idolised. Finzi was shattered, and in the wake of Farrar's passing conceived this memorial to him at the beginning of the 1920s. Gustav Holst's Ode to Death (1922), for chorus and orchestra, was also written in response to composer friends who died in the war. Its quiet resigned mood and feeling of the infinite make it for many people Holst's most beautiful choral work.

His daughter Imogen Holst's Three Psalms (1943) for chorus and strings are stunning pieces with subtle rhythms and carefully hidden harmonies producing a variety of choral textures. George Dyson fought in the war, suffering shellshock, but his Hierusalem (1956) for soprano, chorus and strings presents not the grief and horror of war but a vision of heaven.

The concert started with Elgar's Sospiri for string orchestra, composed in the months leading up to the outbreak of the First World War; it was perhaps the gathering storm clouds of war that moved him to write such a heartfelt, bleak adagio.

In his pre-concert talk, Andrew Burn, a member of the Finzi Trust, focused on the relationship between teacher and pupil, and explored the Requiem da Camera which, for all its elegiac quietude, is also a lament for the heartbreak of war.