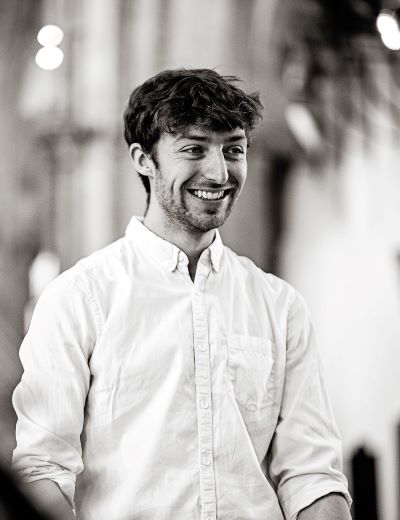 David Young

David is a freelance conductor working on a diverse range of projects across the UK and beyond. As well as his work in Reading, he is Chorus Director of the RTÉ Philharmonic Choir in Dublin, Musical Director of Cardiff Polyphonic Choir, and Co-Director of professional vocal ensemble Reverie.

David is a versatile conductor with broad tastes and enthusiasms, ranging from the largest of choral/orchestral works to complex contemporary a cappella music, and running the whole gamut from early music through Classical symphonies into brand new orchestral repertoire. In recent years, he has led acclaimed performances of Elgar The Dream of Gerontius, Mozart Requiem and Mass in C Minor, Monteverdi Vespers, Beethoven Mass in C, Haydn The Creation, Finzi Requiem da Camera and Mendelssohn Elijah, as well as orchestral works by Debussy, Elgar and Holst. His a cappella repertoire is equally broad, including a deep passion for the music of Byrd, Tallis and Schütz, alongside elegant secular works by Brahms and Haydn, and the full range of contemporary choral music, from its most popular exponents such as Eric Whitacre and James MacMillan through to challenging works by Maija Einfelde and Peteris Vasks.

His time with RBC has been jam-packed with unusual repertoire and successful performances, including an all-Polish programme featuring works by Szymanowski, Gorecki and Lukaszewski, a concert celebrating the Summer Solstice including key works by Eriks Ešenvalds, Vasks and Veljo Tormis, a thrilling and incisive Brahms Requiem with chamber orchestra, and a highly unusual airing of Shostakovich's extraordinary Ten Poems on Texts by Revolutionary Poets. Collaborations have included cellist Stephanie Tress, theatre-maker Rebecca Hanbury and violinist Matthew Chambers.

As well as his work as a conductor, David is an experienced and inspirational chorus master, having worked with symphonic choruses his whole career. In his role with the RTÉ in Ireland, he has prepared choirs for Principle Conductor Jaime Martín (Mahler Symphony No. 3), Kenneth Montgomery (Elgar The Dream of Gerontius) and Patrik Ringborg (Dvorák Requiem), and was mid-preparations for Ravel Daphnis et Chlöe and Stanford Requiem when Covid-19 forced a performance break on the choir. From 2016-2017 he held the post of Sir Alexander Gibson Fellow with the Royal Scottish National Orchestra Chorus, with whom he maintains a strong relationship, and where he worked with the chorus on Brahms Nänie, Verdi Requiem and a commissioned work by Gerald Barry.

David studied at the University of Manchester and the Royal Welsh College of Music and Drama. His recent guest work has included Huddersfield Choral Society and New London Chamber Choir, and he will make his conducting debut with the RTÉ National Symphony Orchestra in October 2020, performing Mozart, Rossini and Fauré. He has broadcast several times on BBC Radio with Cardiff Polyphonic Choir, and during his time in Manchester prepared the University Chamber Choir for work with BBC Television, and a role alongside the Hallé Choir and Orchestra in Wagner Die Meistersinger von Nürnberg under the baton of Sir Mark Elder. He has also prepared choirs for Michael Sanderling/Dresden Philharmonic (Beethoven Symphony No. 9), Eric Whitacre/RPO (Whitacre Deep Field, Five Hebrew Love Songs), Justin Doyle/Manchester University (Brahms Requiem) and James Burton/Manchester University (Walton Belshazzar's Feast), and in 2019 prepared an ambitious tour of combined choirs from Cardiff performing Mendelssohn Elijah with Sinfonie Orchester Schöneberg and Raphaël Haeger, which took in St David's Cathedral, Hoddinott Hall and The Berliner Philharmonie.