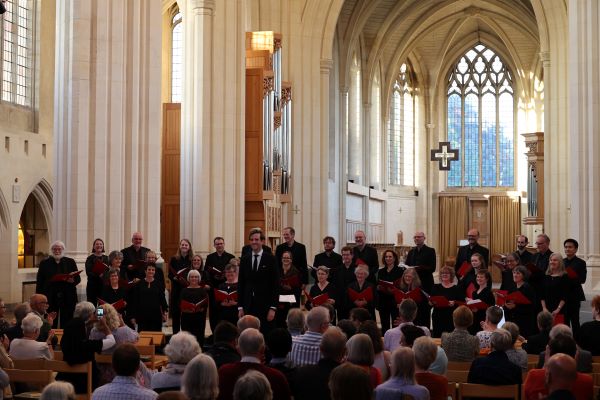 Reading Bach Choir is an amateur, auditioned choir based in Reading, Berkshire, consisting of around 50 singers all passionate about achieving the highest possible standards.
The choir usually gives four concerts a year in and around Reading. Some are a cappella and others are with professional soloists and instrumentalists. Programmes are stimulating, sometimes challenging. The choir retains a particular love for JS Bach but for many years has sung a much broader and varied repertoire stretching from medieval to modern. The choir seeks to enjoy the familiar as well as share the excitement of new vocal landscapes, often programming unusual or lesser known works.

Under our previous Music Director, David Young, the choir explored new avenues and repertoire: performances of rarely heard works like Shostakovich's Ten Revolutionary Songs and Esenvald's Northern Lights; a depiction of Poulenc's life through music and drama; a programme of Polish choral works and a celebration of the summer solstice with choral music from the Baltics. See more about our previous concerts here.

The choir now looks forward to working with our new Music Director, Daniel Mahoney, who has some interesting and progressive programming ideas as well as embracing repertoire from the choir's cultural heritage.

As well as concerts, RBC's links with the community are well established. Every year, the choir helps to raise money for Reading charities. Some choir members regularly support the Alzheimer's Society through weekly 'Singing for the Brain' sessions for which the choir was nominated in 2017 for a Queen's Award for Voluntary Service.

In recent years the choir has toured to Belgium, Latvia and made a special trip to Amsterdam for a concert in the 50th anniversary season. In May 2019 we toured in Poland.


"It doesn't come better than this. There is a timeless spirituality about Reading Bach Choir performing JS Bach…"
– Newbury Weekly News
"truly accomplished choral music"
– Henley Standard