---
what lies beyond sense and knowledge
Sat, 11 Jun 2022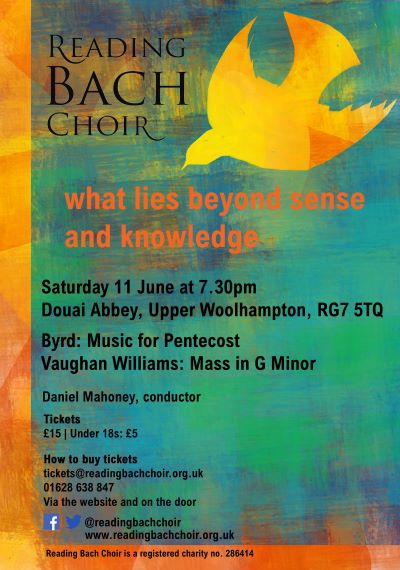 Two of the most significant composers in the history of English music, separated by centuries, coexist seamlessly with one another in this special concert. The deeply faithful William Byrd lived in a delicate balance as a practicing Roman Catholic and member of the Chapel Royal in Elizabethan society. In 1607 he published his second volume of Gradualia, a collection of music for the Catholic liturgical year. This music was meant to be sung in private devotion at a time when doing so could result in fines, imprisonment or even death. Thus this concert marks a rare occasion to hear Byrd's music for the feast of Pentecost performed live.

By contrast, Ralph Vaughan Williams famously proclaimed his atheistic leanings as a youth, ultimately drawing closer to agnosticism as he aged. His experience in the First World War prompted a shift in his spiritual life and inspired some of his most significant works for voice including the Mass in G Minor. 2022 marks the 150th anniversary of Vaughan William's birth as well as the centenary of the Mass's premiere. This key work is considered the first Mass written in a 'distinctly English voice' since Byrd.

Despite the differences in faith between the two men, Vaughan Williams famously stated: There is no reason why an atheist could not write a good mass.
---
The Heart Starts Singing
Sat, 19 Mar 2022
Usher in the changing seasons with the Reading Bach Choir's first concert under new musical director Daniel Mahoney. Drawing upon the choir's rich tradition of juxtaposing old and new, this concert brings together works from the Welsh composer Thomas Tomkins to a UK premiere.

One of two Bach motets on the programme, the jubilant Lobet den Herrn revels in the celebration of the coming spring and the Baroque master's birthday, as well as a new chapter in the choir's story.

The expansive and the swallow highlights why Caroline Shaw was the youngest ever recipient of the esteemed Pulitzer prize for music. Two pieces by acclaimed Indian-American composer Reena Esmail savour in the sensual and spiritual poetry of Hafiz.

Henry Purcell's beloved Funeral Sentences, central to the music for the funeral of Queen Mary, serve as a timely tribute to those who have left us during these difficult past two years.

Los Angeles based Filipino composer Saunder Choi's Can You Hear Me? receives its UK premiere. This companion to the final piece on the programme asks us to recognise and acknowledge others' points of view while Bach's Singet dem Herrn ein neues Lied rouses the heart to sing and dance in celebration and praise.
---
The Kestrel Road and other stories
Tue, 25 Jan 2022
This concert of haunting and compelling music was heralded by a choral fanfare, Prelude, by the Norwegian, Ola Gjeilo, followed by two song cycles for choir and piano, including The Kestrel Road by Peter Maxwell Davies, a piece suggestive of the 'elusive land and seascapes' of the Orkney Islands and influenced by folklore and music. Bob Chilcott's setting of five Aesop Fables uses the composer's gift for melody and delivers some powerful settings of the famous texts.

Two unaccompanied works by female composers: Media Vita by Kerensa Briggs and Kyrie after Byrd by Roxanna Panufnik were performed, as well a setting of James Agee's poem, Sure on this Shining Night by Morten Lauridsen, already one of the classic choral works of this century.

COVID complications meant this concert was rescheduled from the original date of Saturday November 27th 2021 to Tuesday 25th January 2022.
---
Musica Sacra Italiana
Sat, 8 Feb 2020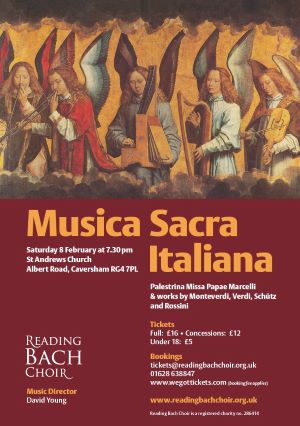 From renaissance polyphony to the romantics, our concert brings you some of the most beautiful and inspiring church music from Italy.

Together with wonderful pieces by Monteverdi and Palestrina, we have works by the lesser known Lodovico Viadana and religious works b Rossini and Verdi, bot beetter known for their operas. Verdi's Ave Maria is an amazing and unexpected piece, written in response to a challenge. If Schütz comes as a surprise in a concert of Italian music, he studied under Gabriele and Monteverdi in Venice and helped to introduce the Italian baroque style to Germany.
---
Brahms - Ein Deutsches Requiem
Sat, 2 Nov 2019
Brahm's wonderful German Requiem is an incredibly human, spiritually comforting work written not as a mass for the dead but as consolation for the living who mourn them. Dark and sombre passages contrast with lyrical and tender moments and each of the seven movements ends in a spirit of optimism. It is a joy to sing and to listen to.

Also in the programme were five beautiful motets by Heinrich Schütz, some of them setting the same texts that Brahms selected from Luther's translation of the Bible.

Music Director: David Young
Soprano: Hilary Cronin
Baritone: Dominic Sedgwick
Orchestra: London Oratorio Players
---
Solstice - Summer music from Britain and the Baltics
Sat, 22 Jun 2019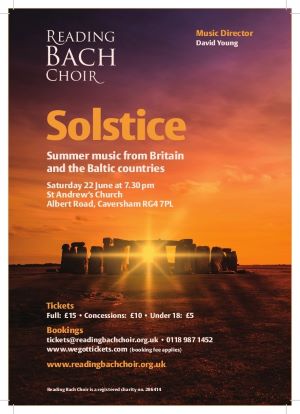 A choral celebration of the SUMMER SOLSTICE! including Tormis' lively and unusual St John's Day Songs and works by Britten, Dove, Harvey, Einfelde, Vasks, Ešenvalds and Rautavaara.
---
Svyati - Music for choir and cello
Sat, 6 Apr 2019
Svyati - a concert of powerful and moving contemporary works for cello and choir named for John Tavener's piece which concluded the programme. Two pieces from Knut Nystedt and one by Pablo Casals were combined with one of Bach's most expressive motets, Jesu meine Freude, and three renaissance gems from William Byrd, Thomas Tallis and Carlo Gesualdo.

Music Director: David Young
Cello: Stephanie Tress
---
Choral Music from Poland
Sat, 2 Feb 2019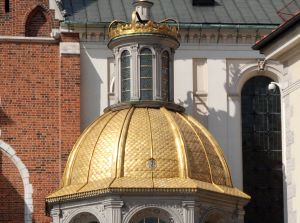 This concert of Polish choral music brings together sacred music ranging from the early 18th century Gorczacki, to living composers Lukaszewski and Roxanna Panufnik. Alongside these are a wonderful Magnificat by Arvo Pärt (from nearby Estonia) and the fascinating folk song settings from Kurpie. This forested, formerly isolated, province of north-eastern Poland has its own highly individual folk traditions and music. Szymanowski's Six Songs from Kurpie (1929) and Górecki's Five Kurpian songs (1999) were both inspired by a famous 1928 collection of over 1000 songs.

Grzegorz Gorczycki: Missa Paschalis
Pawel Lukazewski: Nunc dimitis
Pawel Lukazewski :Ave Maria
Karol Szymanowski: Six songs from Kurpie
Henryk Gorecki: Five Kurpian songs
Roxanna Panufnik: Kyrie after Byrd
Arvo Pärt: Magnificat
---
We Who Are Left
Sat, 3 Nov 2018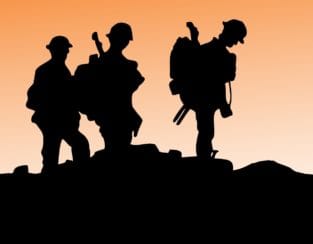 This concert commemorated the 1918 armistice with works by five English composers reflecting their own musical backgrounds and wartime experiences.

The wellspring of Gerald Finzi's Requiem da Camera was the death in action in 1918 of his first composition teacher, Ernest Farrar, whom he idolised. Finzi was shattered, and in the wake of Farrar's passing conceived this memorial to him at the beginning of the 1920s. Gustav Holst's Ode to Death (1922), for chorus and orchestra, was also written in response to composer friends who died in the war. Its quiet resigned mood and feeling of the infinite make it for many people Holst's most beautiful choral work.

His daughter Imogen Holst's Three Psalms (1943) for chorus and strings are stunning pieces with subtle rhythms and carefully hidden harmonies producing a variety of choral textures. George Dyson fought in the war, suffering shellshock, but his Hierusalem (1956) for soprano, chorus and strings presents not the grief and horror of war but a vision of heaven.

The concert started with Elgar's Sospiri for string orchestra, composed in the months leading up to the outbreak of the First World War; it was perhaps the gathering storm clouds of war that moved him to write such a heartfelt, bleak adagio.

In his pre-concert talk, Andrew Burn, a member of the Finzi Trust, focused on the relationship between teacher and pupil, and explored the Requiem da Camera which, for all its elegiac quietude, is also a lament for the heartbreak of war.