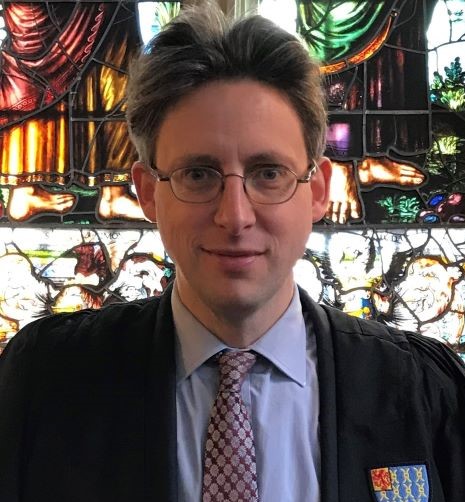 Nicholas Shaw

Nicholas maintains a versatile career as a conductor and keyboard player. In addition to his work as Assistant Music Director for the Reading Bach Choir he is Organist and Director of Chapel Music at Lincoln's Inn in London and Youth Chorus Master for Opera North.

He has been associated with the Reading Bach Choir for over twenty years and has been accompanist since 2006. In that time he has worked with four Music Directors and played for (and on occasion, conducted) many memorable concerts both in UK and abroad. As a skilled accompanist his primary focus is supporting the weekly rehearsals of the choir and he has enjoyed learning the huge amount of challenging repertoire that the choir is known for.

As a conductor Nicholas works regularly with the professional choir of Lincoln's Inn providing music for services in Chapel as well as in the wider community of the Inn. He is currently undertaking a large scale project to commission musical settings of stanzas of The Litanie by John Donne (a former Preacher of Lincoln's Inn) due for completion in 2024 and he has directed premieres by a range of contemporary composers including Allain, Casken, Dove, Esenwalds, Frances-Hoad, Martin and Woolf.

Nicholas's position as Youth Chorus Master for Opera North sees him working across a broad range of activities. As artistic director of the Youth Company he devises and delivers projects for talented young people aged 8-18 as part of a weekly training programme based in Leeds. Previous work has included shows at the Edinburgh Fringe Festival as well and the Sage, Gateshead and Leeds Town Hall. He is always keen to work collaboratively to question what opera should be to young people and the Youth Company has worked with Phoenix Dance in Leeds as well as with many artists and performers not necessarily associated with opera as an art form. He has conducted the Orchestra of Opera North in concert and prepared both the Main and Youth Choruses for conductors such as Richard Farnes and Garry Walker. Nicholas is also responsible for preparing young people for the mainstage shows of Opera North and in the last few years has worked with children's choruses on acclaimed productions of La Bohème, The Magic Flute, Tosca and Kurt Weill's Street Scene.

His commitment to education work sees Nicholas work regularly at Saffron Walden County High School, in partnership with Saffron Hall, and at St Paul's Girls' School in London. For over ten years he directed the choirs of Junior Guildhall and he was Music Director of the Youth Choir, Cantate, for many years and with whom he won double gold medals at the 2014 World Choir Games in Latvia as the highest placed European Youth Choir. He has delivered education projects for many national educational organisations and charities.

Nicholas studied at Magdalen College, Oxford (where he held the organ scholarship) and at the Royal Academy of Music as one of the founding students of the Choral Conducting course. He graduated winning all the available prizes and has subsequently been elected an Associate of the Academy.