Come and enjoy a recital by Royal College of Music clarinet professor and Reading Bach Choir alto Janet Hilton, accompanied by our Assistant Music Director Nick Shaw


Clarinet and Cake


Janet Hilton - clarinet
Nick Shaw - piano
Studies in English Folksong - Ralph Vaughan Williams (1872–1958)
Intermezzo and Scherzo from Four Characteristic Pieces - William Yates Hurlstone (1876-1906)
Caoine, Irish Lament from Sonata Op 129 - Charles Villiers Stanford (1852-1924)
Two Memorials - Mark Anthony Turnage (1960- )
Sonatina for clarinet and piano - Joseph Horovitz (1926-2021)


3.30pm Saturday 8th October
St Andrews Church, 59 Albert Road, Caversham RG4 7PL

Read more about Janet, Nick and the concert

Tickets are £15 and include tea and cake afterwards. Under 18s £5. Book here
---

Our next concert




I Believe




Sunday November 13th, 5pm - St Andrews Church, Caversham

Programme to include Margaret Bonds Credo

Full details and ticket sales coming soon


---

We are recruiting - particularly Basses
Learn more
---



At the end of May, Daniel Mahoney was a guest of Bill Buckley on Radio Berkshire talking about his recent appointment as Music Director of Reading Bach Choir and his thoughts and plans for our future together.
---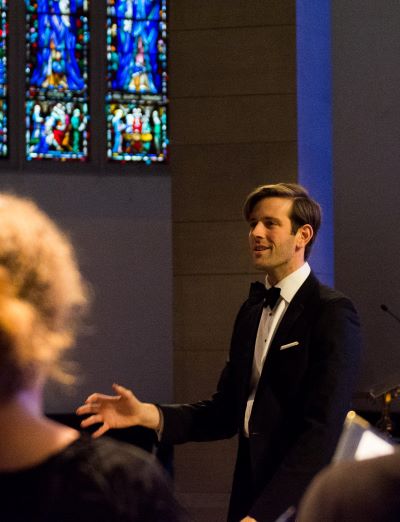 We are recruiting

This accomplished choir performs a wide range of choral music, ancient and
modern, with a particular focus on challenging and rewarding new music.
Recent concerts have included works by Caroline Shaw
, Reena Esmail
and Saunder Choi as well as more familiar composers such as Byrd, Tomkins, Vaughan Williams and of course J.S. Bach. In the pipeline is music by Margaret Bonds, Brahms and
an exciting UK premier of Kile Smith's The Arc in the Sky.
We are looking for new members (particularly basses) with a high standard of singing and
musicianship, who are interested in challenging themselves musically
in a friendly and aspirational environment, led by our recently appointed
conductor Daniel Mahoney. If that sounds like you, please come and join us
for a few rehearsals to try us out. If you enjoy the experience and want to
stay with us, we will arrange a short audition.
We rehearse on Tuesdays at 7.30pm, at St Andrews Church, Caversham in Reading.
If you are interested, please contact: membership@readingbachchoir.org.uk or go to the 'Sing with Us' tab at the top of this page and select 'Join the Choir' and 'FAQs'.
---

Want to keep in touch? Sign up for our occasional newsletters